The financial services industry has been experiencing significant changes in recent years due to the increasing demand for digital solutions and the emergence of a cashless society. As technology continues to advance, it has become essential for financial service providers to adapt and stay ahead of the game.
One way they can achieve this is by leveraging survey data to gain valuable insights into the ever-changing needs of their customers. Surveys provide a deeper understanding of customer behavior, preferences and expectations so that financial institutions can tailor their offerings to their clients' needs.
Knowing your market
Knowing your market is crucial for success in the financial service industry. Financial services inherently tie to individuals' financial needs and goals, which vary considerably depending on age, income and life stage.
One of the most significant changes in the financial service industry in recent years has been the rise of fintech, or financial technology. In late 2021, there were nearly 11,000 fintech startups in the U.S. alone — making it the region with the most fintech startups globally.
Fintech companies offer innovative solutions that are often more accessible, user-friendly and cost-effective. This has created a shift in consumer expectations, particularly among younger generations who are more likely to embrace technology and prioritize convenience.
Financial service providers (FSPs) must stay up-to-date with the latest trends and technologies to meet these consumers' changing needs. This includes using survey data to better understand customer preferences and expectations and identify areas where they can improve their offerings. By leveraging survey data, FSPs can gain valuable insights into consumer behavior and develop products and services tailored to their customers' needs.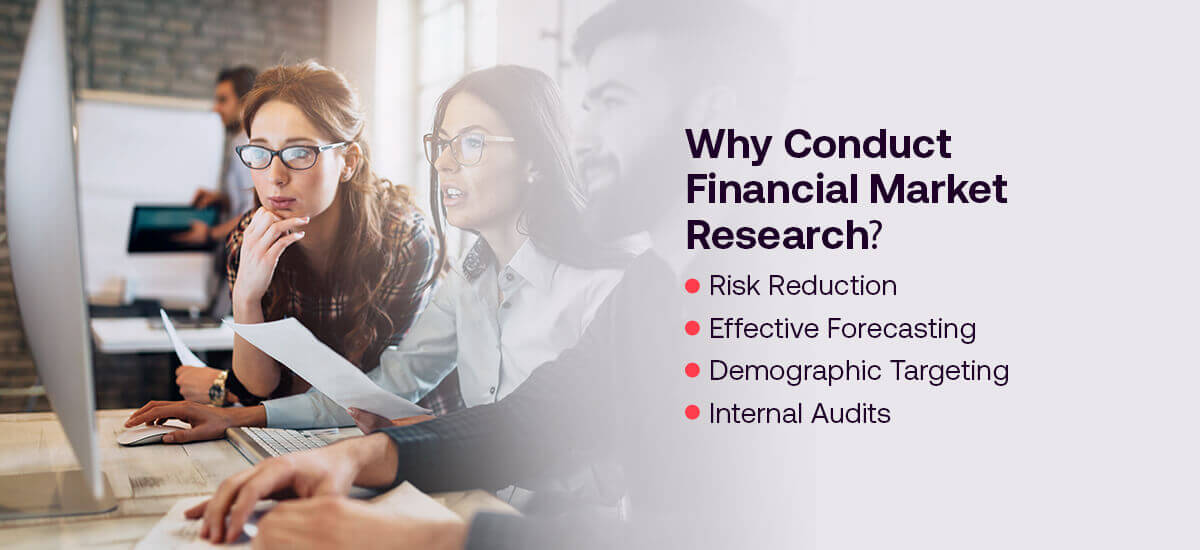 Why conduct financial market research?
Market research in financial services is essential for FSPs looking to reduce business risk, make accurate forecasts, target specific demographic groups and improve internal performance. By leveraging the insights provided by market research, FSPs can stay ahead of the curve and remain competitive in a rapidly changing industry.
Risk reduction
Conducting market research can help financial service companies reduce their business risks by providing valuable insights into their customers' needs, preferences and behaviors. By understanding these factors, FSPs can make more informed decisions about the products and services they offer and how they market and promote them.
Creating a financial strategy that covers all the risks and advantages a company may face might help FSPs decide which possibilities to pursue — helping them avoid costly mistakes and minimize their risk exposure. Some common research areas for financial service companies include the following:
Business banking
Insurance
Mortgages
Personal loans
Property management
Effective forecasting
Market research is essential for effective forecasting and analysis in the financial service industry. Proper financial forecasting is critical for FSPs to strategize in the face of potential company risks. As a result, financial market research assists businesses and institutions with strategic planning.
By collecting data on customer behavior, preferences and needs, FSPs can better predict future trends and make more accurate forecasts about market demand. This can help with the following:
Effectively plan and allocate resources
Improve performances
Set realistic and relevant goals
Predict yearly budgets
Demographic targeting
FSPs require good financial markets research to examine their target market and what they require from their firm to determine their ideal demographic. This type of research is also valuable for determining the distribution of consumer spending over time and how customers perceive their financial conditions.
By gathering data on customer demographics such as age, income and education level, FSPs can create more targeted marketing campaigns that are more likely to resonate with their target audience. This can help them attract new customers and retain existing ones.
Internal audits
Finally, market research can assist in internal audits for FSPs. Companies can review financial market conduct to evaluate trading activity, existing credits and regulatory reports for a successful internal audit. Because of the interconnection of the financial system, institutions must examine and analyze their exposure to systemic risks by reviewing and analyzing macroeconomic factors, industry trends, regulatory changes, risks materializing at other entities and peer innovation. An internal audit provides a complete report on the market's current and predicted financial concerns.
How to conduct market research in the financial services industry
Financial marketing research is an essential tool for any firm looking to make informed decisions and stay ahead of the competition. In the financial services industry, where the landscape is constantly evolving, it's imperative to conduct thorough and accurate market research. Moreover, FSPs can choose to conduct their research in several ways — through primary and secondary research methods.
Primary methods
Primary market research methods involve gathering data directly from your target market through various means. These methods help collect information specific to your business and goals. Here are some typical primary market research methods:
Surveys: Financial service companies can use surveys to collect data from their target market. You can conduct surveys online, over the phone or through email. They can gather information about customer preferences, satisfaction levels and buying habits.
Focus groups: Focus groups are a way to gather qualitative data from a small group of people with similar characteristics or experiences. Financial service companies can use focus groups to explore new ideas, test concepts and gain insights into customer attitudes and behaviors.
Interviews: One can conduct interviews one-on-one or in small groups. One can structure or leave interviews unstructured and conduct them in person, over the phone or online. FSPs can use interviews to gather detailed information about specific topics or issues.
Observation: Observation involves watching and recording how people behave in specific situations. Financial service companies can use observation to gather customer behavior and preferences data.
Primary market research methods can provide businesses with valuable insights into their target market, customer needs and preferences and help them make informed decisions.
Secondary methods
Secondary market research methods involve using existing sources of information to gather data and insights about a market or industry. Here are some typical secondary research methods used in the financial service industry:
Industry reports: Research firms, trade associations and government agencies publish industry reports. They provide information about market size, growth rates, industry trends and key players in a specific industry.
Government statistics: Government agencies provide statistics on various economic indicators, such as inflation rates, interest rates and GDP. Financial service companies can use these statistics to track market trends and make data-driven decisions.
Competitor analysis: Competitor analysis involves researching and analyzing the strengths and weaknesses of a company's competitors. Financial service companies can use this information to identify areas where they can differentiate themselves from their competitors.
Academic research: Academic research can provide insights into customer behavior, financial regulation and market trends. Financial service companies can access academic research through academic journals, conferences and research institutions.
Social media analytics: Social media analytics involves analyzing data to gain insights into customer behavior and preferences. Financial service companies can use social media analytics to track customer sentiment and identify emerging trends.
Secondary market research methods can be cost-effective for financial service companies to gather information about their market and competitors and make data-driven decisions.
Surveys vs. administrative data
Surveys are a common market research tool that enables researchers to collect information about people's attitudes, preferences and behaviors. Surveys provide a way to sample a population and gather data on various topics, including customer satisfaction, product usage and brand awareness.
In contrast, administrative data is information collected from a company's normal operations, such as sales figures, website traffic or customer demographics.
Surveys allow researchers to gather more in-depth information about customers and their experiences, while administrative data can provide a more accurate picture of actual customer behavior.
Make market research a breeze with Cint
Cint has access to one of the world's largest consumer panel networks and can assist you in reaching the demographics you require.
Our survey sampling technologies provide results quickly. Cint's global market research solution offers unrivaled flexibility and access to survey audiences.
Whether you want to implement surveys independently or need help, our knowledgeable team is always a click away. Contact us online today for more information.